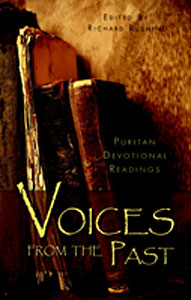 Voices From the Past

Puritan Devotional Readings.
Over the past fifty years
there has been a great resurgence of interest in the writings of the Puritans.
The reading of their works has brought great benefit to the people of God in
many lands. Christians from many different backgrounds and cultures owe a great
debt of gratitude to those faithful pastors and preachers who continue to speak
through their writings even though they have long since entered into their
heavenly reward. The Puritans really knew how to teach and apply GodÉs Word in
the SpiritÉs power!
Richard Rushing has compiled this book of daily
devotional readings from his favourite Puritan authors because of the great
help he has gained from their Works. ÈHow thrilling it has been for me to read
the Puritans on the glory and attributes of God, divine providence, fellowship
with God, holiness of life and the mortification of indwelling sin, heavenly
mindedness, prayer, evangelistic zeal, and trust in the Lord during times of
affliction. At every turn these truths are eloquently taught, faithfully
applied, and kindly offered as the subject of sweet spiritual meditation.É

This book is sent forth with the prayer that it will open a door to the
vast stores of treasure to be found in the writings of the Puritans and that it
will stimulate further exploration of this rich spiritual inheritance.

Recommended € 24,90


Anderen bekeken ook: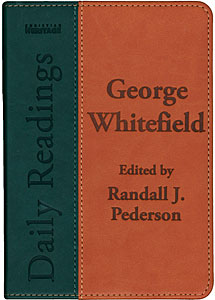 Daily Readings
George Whitefield - The first devotional compiled solely from Whitefield's works and provides an
excellent introduction to the spirituality of this eighteenth century
evangelical. In this carefully edited ...
€ 12,90
verder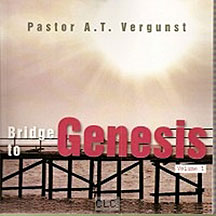 Bridge to Genesis, vol. 1
Ds. A.T. Vergunst -
Volume 1: Genesis 1-5.
In Bridge to Genesis God's message is connected to you. By very simply
explaining what it says, ...
€ 10,95
verder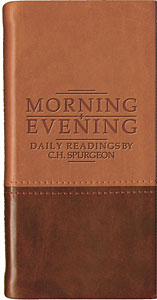 Morning and Evening
C.H. Spurgeon -
Daily Readings.
A wealth of Biblical teaching from Spurgeon. He meditates on two portions of
scripture each day with applications that are ...
€ 12,90
verder
Meer van deze auteur...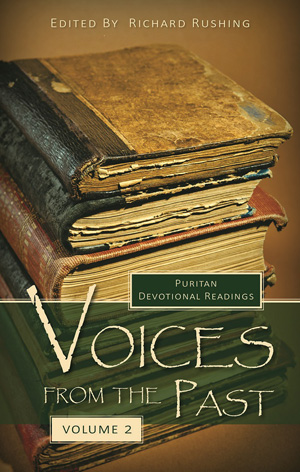 Voices from the Past (2)
Richard Rushing (ed.) -
Richard Rushing has compiled a further 365 daily devotional readings to
take you through the year with the Puritans. Building on Voices ...
€ 19,90
verder