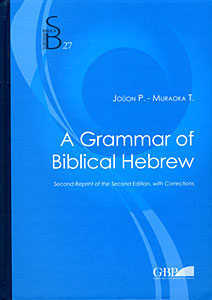 A Grammar of Biblical Hebrew (2011)
Third Reprint of the Second Edition, with Corrections.
This is the most extensive revision yet of one of the most complete Hebrew
Grammars Available in English. The first edition (1991) was in its turn based
on the original work in French by Paul Jouon (1923). This new edition by
Tamitsu Muraoka (2009) brings this work up to the present by taking account of
developments in our understanding of the Hebrew language during the intervening
years. For the first time this work is prestented in one hardback
volume.
Authors: Paul Jouon and T. Muraoka.
Series: Subsidia Biblica, volume 27.