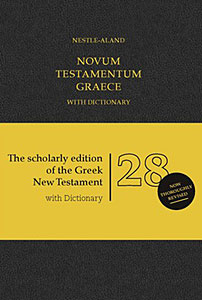 Novum Testamentum Graece (28th ed.) with Dictionary
This standard edition for students, pastors, and translators has been improved:
papyri 117--127 are included for the first time; there are 30 corrections in
the text of the Catholic Epistles; the revised critical apparatus is now easier
to use; and the Greek-English Dictionary of the New Testament by Barclay Newman
has been added. (= 9781619700468)

Anderen bekeken ook: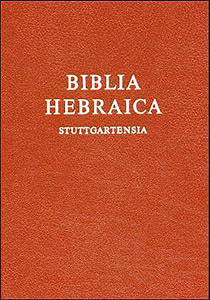 BHS Biblia Hebraica Stuttgartensia (14 x 19 cm)
Kurt Elliger (ed.) -
Biblia Hebraica Stuttgartensia (BHS) is known to be the definitive
edition of the Hebrew Bible. It is widely regarded as a reliable edition ...
€ 42,00
verder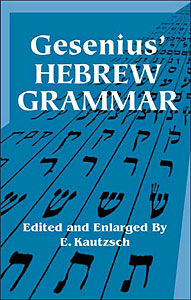 Gesenius' Hebrew Grammar
Wilhelm Gesenius -
One of the most comprehensive books on the Hebrew language, it covers all
aspects, including word roots and derivatives, prefixes and suffixes, syntax
and pronunciation. ...
€ 26,90
verder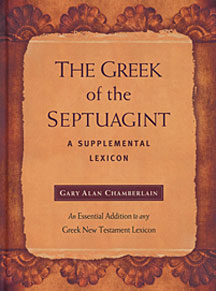 The Greek of the Septuagint
Gary Alan Chamberlain -
A Supplemental Lexicon. An Essential Addition to any Greek New Testament
Lexicon.
For New Testament students and scholars who want to ...
€ 34,90
verder
Meer van deze auteur...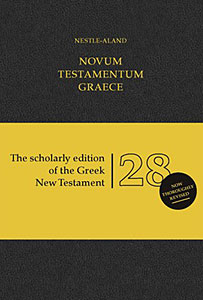 Novum Testamentum Graece (28th ed.)
Kurt Aland (ed.) - Das weltweit verbreitete Standardwerk unter den griechischen Urtextausgaben des
Neuen Testaments erscheint jetzt in einer grundlegend überarbeiteten und
verbesserten Auflage (28. Aufl.). ...
€ 32,00
verder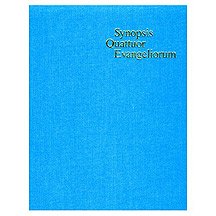 Synopsis Quattuor Evangeliorum
Kurt Aland (ed.) - Locis parallelis evangeliorum apocryphorum et patrum adhibitis. Editio
quindecima revisa (Greek Synopsis).
15th Revised Edition, 4th Printing
utilizing the Nestle-Aland 27th edition ...
€ 59,90
verder