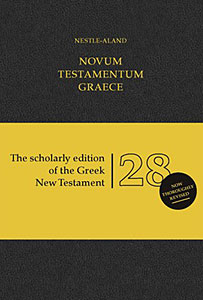 Novum Testamentum Graece (28th ed.)
Das weltweit verbreitete Standardwerk unter den griechischen Urtextausgaben des
Neuen Testaments erscheint jetzt in einer grundlegend überarbeiteten und
verbesserten Auflage (28. Aufl.). Ein Schwerpunkt der Überarbeitung lag auf dem
textkritischen Apparat, der durchgängig einfacher strukturiert wurde. So wird
jetzt verzichtet auf die Verknüpfung von Varianten durch sed oder et und auf
die Unterscheidung zwischen ständigen Zeugen erster und zweiter Ordnung.
Außerdem werden in dieser Ausgabe erstmals die Lesarten der neu entdeckten
Papyri 117-127 verzeichnet, die besonders in der Apostelgeschichte interessante
Perspektiven eröffnen. Ein Schwerpunkt der Revision lag auf den Katholischen
Briefen, wo die Ausgabe an die Editio Critica Major (ISBN 9783438056054) mit über 30 Änderungen angepasst wurde. Die Verweisstellen am Rand wurden
systematisch überprüft und insbesondere um Verweise auf frühjüdische Literatur
ergänzt.
This is the twenty-eighth edition of the Nestle-Aland Novum Testamentum Graece
(NA28). NA28 is the standard scholarly edition of the Greek New Testament used
by scholars, Bible translators, professors, students, and pastors worldwide.
Now NA28 has been revised and improved: * Critical apparatus revised and easier to use * Papyrii 117-127 included for the first time * In-depth revision of the Catholic Epistles, with more than 30 changes to the
upper text * Scripture references systematically reviewed for accuracy.

Anderen bekeken ook: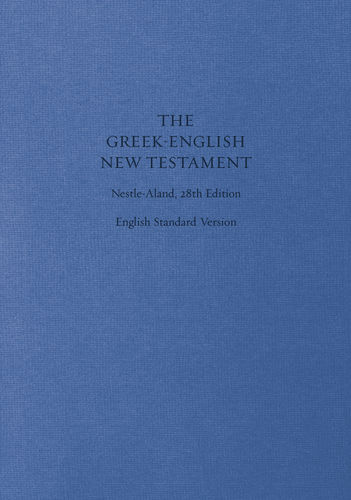 Greek-English New Testament (NA28/ESV)
-
Combining Greek with the English Standard Version text, the
Greek-English New Testament is an essential resource for students, pastors, and
scholars who work with the ...
€ 44,90
verder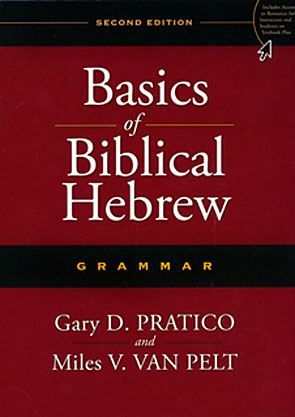 Basics of Biblical Hebrew, Second Edition
Gary D. Pratico -
Grammar.
Basics of Biblical Hebrew, today's best-selling introductory Hebrew grammar,
has just gotten better with additional, linguistically nuanced explanations for
some of ...
€ 39,90
verder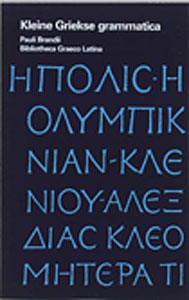 Kleine Griekse Grammatica
J. Nuchelmans - Een standaarwerk over etiquette. 334 blz.-- Pauli Brandii
Bibliotheca Graeca Latina
Twintigste druk, zesde oplage.
Samengesteld door dr. J. Nuchelmans ...
€ 19,99
verder
Meer van deze auteur...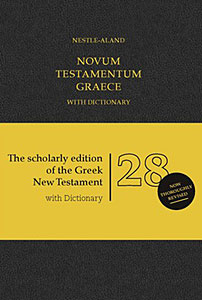 Novum Testamentum Graece (28th ed.) with Dictionary
Kurt Aland (ed.) -
This standard edition for students, pastors, and translators has been improved:
papyri 117--127 are included for the first time; there ...
€ 38,00
verder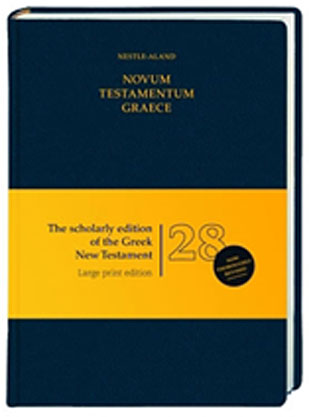 Novum Testamentum Graece 28 Großdruck Ausgabe
Kurt Aland (ed.) -
Die 2012 erschienene 28. Auflage des Nestle-Aland Novum Testamentum Graece ist
in der Fachwelt auf reges Interesse gestoßen. Was bislang ...
€ 47,90
verder